The Posse of
Lunatics
A Freedom Special Report
Jason Beghe:
Apostate Poster Boy and Hollywood Psycho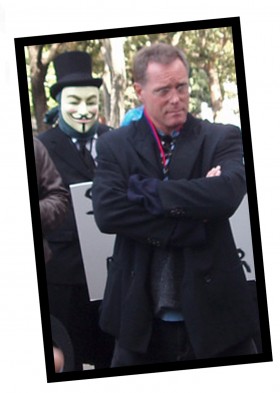 Jason Beghe is a d-list actor with a string of mostly one-off episodic television roles on his résumé. But if his acting career never really took off, these days he's found a new outlet for his middling talents, becoming a "star" in the apostate world as latecomer to Kingpin's Posse.
In this capacity he acts as unofficial poster boy for the cult of Marty Rathbun. It's all the more appropriate considering he holds the distinction of being "Patient Number One," meaning Beghe was first in line for Rathbun's brand of psychobabble "counseling."
His newfound career as an apostate has also afforded him a recurring role with the cyberterrorist group, Anonymous. His credits there include marches with mask-wearing Anonymous members in San Francisco and New York. Beghe also performed a forgettable turn as "Guest Hate Speaker" during an Anonymous confab in Germany. But as time passes, Beghe's apostate performances have gone from hate-filled to psychotically violent.
Case in point: Beghe signs on as a witness for a couple of court cases initiated by fellow apostates Marc and Claire Headley. When a process server associated with the cases arrives at Beghe's house, the actor apparently morphs into the role of "Psychotic Bully." Taking the doorbell as his cue, Beghe comes out fighting. The character actor connects with the innocent process server's head five times and then batters him about the stomach and kidneys. The process server flees for his life to the safety of a waiting car. But Beghe continues his violent adlib, taking out his aggression on the car itself, pounding so hard with his fists he dents the roof—and all while nearly shattering the driver's window with his elbow.
While it may not have been an Emmy-worthy performance, it was convincing enough to earn Beghe a conviction for battery and a year's probation. Also bestowed upon the actor is an $11,623.37 bill to cover his unwitting co-star's medical costs.
Then, while still on probation, Beghe reprises his role as the "Psychotic Bully." This time he shares the bill with a homeless apostate kid. He takes pity on the kid and lets him camp out in a trailer behind his house. One day Beghe twigs on the fact he essentially has live-in help and puts the kid to work on the yard. But Beghe doesn't like the way the kid wields his weed whacker, so he tackles the kid to the ground and lets his fists do the acting.
It's at this point that Beghe's role as "real-life apostate" and his mediocre acting career intersect because when the kid goes to the sheriff, the weed whacker incident becomes grist for the Hollywood gossip mill, splashing all over the pages of TMZ.com and the online tabloids.
As for Beghe's next role, who knows what it will be? Maybe he'll star in another big fight scene—this time with the guy who reads the gas meter. Or maybe it'll be a maniacal fit of road rage on the Hollywood freeway. Or maybe his short fuse will burn out at his next court appearance. Now, that could be the performance of a lifetime because every actor, even a bad one like Beghe, loves the chance to tear up the scenery in a meaty courtroom drama.